DIY: Mesh Bucket Bag
got your mesh bucket bag?
There has been mesh bag inspo aplenty in my online prowling so I began theorizing how to bring this home. I had some leftover mesh from the bomber jacket I made previously, as well as some vinyl from my clear raincoat project. This, combined with a really adorable bag I found online led to a bucket silhouette, gathering at the top in two neat handles.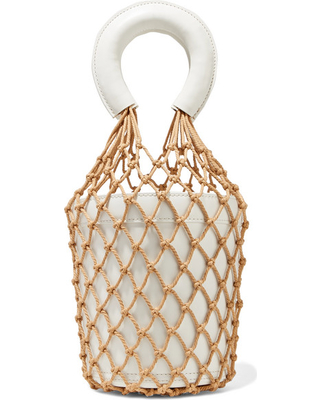 "hello it's me the inspo"
Staud Moreau Macramé And Leather Bucket Bag
My finished bag packed amazingly well in the luggage, the vinyl prevented anything from falling through the holes, and I can still swap the vinyl for a different cute shape in the future. Love.
Supplies
0.5 m clear vinyl
0.5 m mesh, fishing net, macrame (go explore!)
Instructions
1. From the vinyl I cut a circle that was 21 cm wide, and a wall that was about 70 cm by 30 cm
2. I sewed the wall to the circle, leaving the ends available to close them off
3. Once I was almost all the way around, I sewed the wall edges together and trimmed off the excess material
4. Now I could finish sewing the vinyl circle to wall to complete the bucket
5. I wanted the raw edges on the inside, so I flipped the entire bucket inside out
6. Then I folded the rim at 25 cm height and secured it with clips
7. I stitched the rim twice all the way around, it was optional but helped to make the lip stiffer
8. All of this was repeated with the mesh, I cut out a circle using the vinyl as a guide
9. Then I sewed the circle to a wall of mesh, closed the wall once I got close to all the way around, and finished sewing the mesh circle to wall
10. I flipped it inside out and inserted the vinyl basket into the mesh, perfect fit!
11. On to the handles, I cut out four U shapes from vinyl that were 14 cm in diameter and 4 cm wide along the curve
12. I sewed these handles in pairs along the inner edge, and will come back to these in a moment
13. With the excess mesh that extends beyond the bucket, I cut this into 4 equal sections
14. Two of these sections will go through each handle, so I added mesh as needed to complete the bridge
15. Then I flipped the vinyl handles and sewed them over mesh
16. And I also added a small stitch at the ends of the handles to lockup the fabric